UTE PASS CULTURAL CENTER
Rooms and Spaces
THE MAIN ROOM
The Main Room has been recently renovated and now has beautiful luxury vinyl flooring, bettle kill pine walls, and barndoor window converings. The room has a seating capacity of 250 theatre style or 200 banquet style, and is pefect for weddings, receptions, concerts, conferences, craft fairs, and more.
THE NORTH ROOM
The North Room is located behind the stage and is a great space for dance lessons, yoga, and karate classes. The room measures 17.5 by 43 feet with linoleum flooring.
COMMUNITY ROOM
The Community Room is located downstairs and is perfect for meetings, small parties, and classes. The room measures 21 by 23.5 feet with carpeted floors, kitchen cabinets, sink and microwave.
MIDLAND PAVILION
The Midland Pavilion is a gorgeous open air green space that includes a pavilion structure and view of Pikes Peak. It is located adjacent to the Ute Pass Cultural Center and is great for weddings, concerts, and festivals.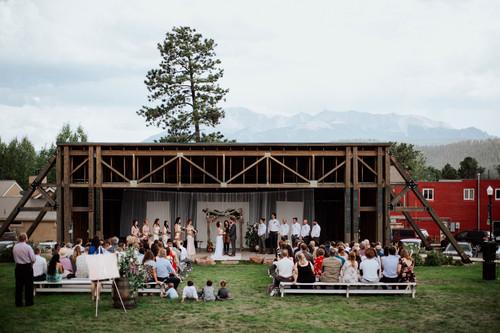 GREATER WOODLAND PARK CHAMBER OF COMMERCE